Hi Crafter's,
Elisa here from the Memory Maze Design Team again, just sharing a recent blog post on the Memory Maze blog. A colourful Art Journal page featuring some lovely Memory Maze Chipboard and a grunge stencil.
I wanted to achieve a different look with this Art Journal Page with the colour and texture only in the background whilst keeping the gorgeous Chipboard white, clean and simple.
To achieve this look i gesso'd the chipboard pieces white and laid them aside to dry. I have found a wonderful gesso in a spray can and is a life saver!!
I then tore strips from the Newspaper and included a title of To Come Alive which i pieced together from the Newspaper, I then gesso'd over the top of the newspaper to provide a bit of texture.
Then i used
Colour Blast Shimmer Dusts
and a splatter technique, splatter drips and drops of the gorgeous shimmer dusts which you have diluted with a small amount of water all over the areas in which your chipboard will sit.
I then splattered Bling Colourblast Shimmer Spray as well. I stamped several texture stamps and flower stamps over the top of the colour and then using a palette knife i spread Bling Colourblast Texture Paste over a Memory Maze Stencil.
Here are some close ups :-)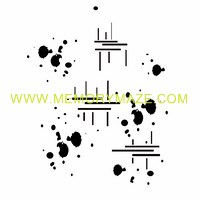 Thanks for stopping by the Blog today :-)
Elisa xx